A yearbook provider who does what they say…
Last school year, we experienced the greatest global pandemic since 1918. And that meant life slowed down… What was supposed to last two weeks turned into nine months and counting. While everyone was slowing down, Entourage was revving up for our largest year yet. COVID-19 broke out right before our production season, but we were right there ready for our schools. While other companies made excuses and missed deadlines, Entourage was on the front lines as a team! 
99.8% of Entourage Yearbook customers received their project by their delivery date! That's over 3,000 schools that were delivered hundreds of thousands of memories this year!
This level of dedication is guaranteed when you switch to Entourage – 46 people that dig deep and come together to make sure that every student receives those cherished memories on time! Our whole team put in extra miles and faced lots of challenges this year. 
Whether it was Aly, who rented a truck and hand delivered thousands of books to dozens of schools, when the mail companies said it just wasn't possible… 
Or Jessica, a sales rep, who learned how to bind a yearbook while also working late to make sure every order was filled… 
Or Anthony, who worked through lunch more times than I can count to be available to his schools and make sure your yearbook was perfect for production.
They didn't do this for pat on the back I'm giving them now; but because we are a family at Entourage. When you sign up with us, you become a part of that family and family means no one gets left behind.
Join the Entourage family and see what a difference it makes!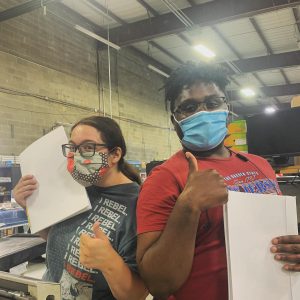 Assistant Account Manager Paige & Senior Sales Representative Allen learning how to bind yearbooks
What do Indiana schools have to say about the Entourage family?

Don't take my word for it! See what schools in Indiana are sharing with us: 
"I also wanted to say how wonderful it was to work with you and your company. We couldn't have found anything more perfect for our soldiers"
– Sgt. Richardson of the 38th Infantry Division of Indiana
"Thank you so much Chase! You've always been a rockstar for us!! You're very much appreciated! 🙂 I'm definitely looking forward to this year's yearbook even more so than last year!"
– Vivian from Saint Lawrence Catholic School
"Chase – Thank you very much. Your company is wonderful to work with and we are thrilled with the quality of our yearbook. Thanks again and have a great day!"
– Kim from Plentywood High School